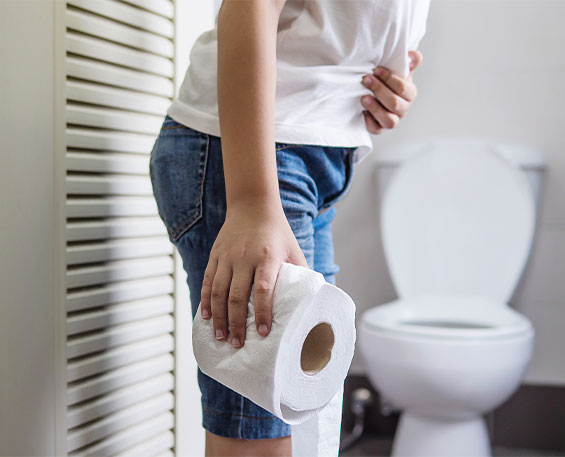 About Disease
Gastrointestinal disorders are among the most common problems faced by a massive population all over the world. The most prevalent diseases include chronic diarrhea, chronic constipation, GERD (Gastroesophageal Reflux Disease), and IBS (Irritable bowel syndrome).
Chronic Constipation
Chronic constipation is infrequent bowel movements or difficult passage of stools that persists for several weeks or longer. About 33.5% of older individuals aged 60 and above are suffering from directly affecting a person's quality of life% (varies between 0.7% and 79%) of adults are suffering from this condition.
Chronic Diarrhea
Chronic Diarrhea is a condition in which a person passes loose or watery stools and it occurs more than three times within a day and lasts for four weeks. According to WHO, globally, nearly 1.7 billion cases of childhood diarrhoeal disease are reported annually. Making it a life-threatening condition.
Irritable bowel syndrome (IBS)
Irritable bowel syndrome (IBS) is a gastrointestinal (GI) disorder in which the patient faces altered bowel habits with abdominal discomfort or pain without any biochemical and structural abnormalities.
GERD (Gastroesophageal Reflux Disease)
GERD occurs when stomach acid repetitively flows back into the tube connecting your mouth and stomach (esophagus). This acid reflux can irritate the lining of your food pipe. Many people experience acid reflux from time to time.
Symptoms
Chronic Constipation
Chronic constipation is a condition in which a person has fewer than three bowel movements a week-
● Fewer than three stools pass in a week.
● Dry and hard stools.
● Difficult to pass stools.
● Stomach ache or cramps.
● Bloating and Nausea.
● Feel of incompletely emptied bowels after stool pass.
Common causes of constipation include slow down of normal bowel movements, lack of proper diet, reduced intake of adequate fluid, sedentary lifestyle, illness, or overuse of drugs. According to Ayurveda constipation is caused by Vata Dosha imbalance in the body, specifically Apana Vayu which is a sub-type of Vata that controls all downward movements. Chronic Diarrhea Symptoms of Chronic Diarrhea are-
● Abdominal cramps or pain.
● Bloating.
● Nausea.
● Vomiting.
● Fever.
● Blood in the stool.
● Mucus in the stool.
● Urgent need to have a bowel movement.
Common causes of chronic diarrhea include virus infection, bacterial infection, some foods that upset the digestive system, allergies, and sometimes it is also linked with sensitivity to a certain food, side effects of medicines, and poor absorption of food is another important cause of diarrhea.
Irritable bowel syndrome (IBS)
Symptoms of IBS are –
● Abdominal pain or cramps, usually in the lower half of the abdomen.
● Bowel movements that are harder or looser than usual.
● Excess gas.
● Bloating.
● Diarrhea, constipation, or alternating between the two.
● Mucus in your poop (may look whitish).
IBS is a very complex digestive problem that is caused by a combination of problems. IBS may present different causes in every patient. For example, in some people with IBS, food may move too quickly or too slowly throughout the digestive tract, causing changes in bowel movements. Some common factors include- changes in gut microbes, Severe infection, and stress.
GERD (Gastroesophageal Reflux Disease)
Some common symptoms of GERD are-
● A burning sensation in your chest (heartburn)
● Heartburn after eating
● Reflux of food or sour liquid.
● Chest pain and upper abdominal
● Difficulty in food swallowing
● Inflammation in vocal cords
Causes of GERD is applying too much pressure on the abdomen. Some pregnant women feel heartburn, due to increased pressure. Some types of food, certain medications, and eating habits like eating food too fast.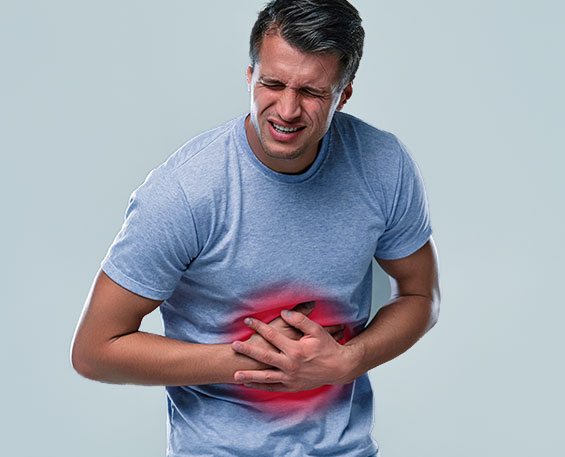 Chronic Constipation
Several criteria should be investigated in the clinical evaluation, including the frequency and consistency of stools, stool size, the duration of the symptoms, excessive obstruction, history of ignoring a call to defecate, and feeling of incomplete evacuation or the use of hand during defecation.
Chronic Diarrhea
In the case of chronic diarrhea, it is essential to evaluatethe patient's symptoms to establish a definite investigation of diarrhea. Most people term diarrhea as having loose or watery stools, regardless of the frequency.
Basic investigations carried out in chronic diarrhea include:
Blood Tests
Stool tests
Serological tests for coeliac disease
Further investigations are carried out according to the history and investigations findings andmay include:
● sigmoidoscopy or colonoscopy
● Upper gastrointestinal endoscopy
Irritable bowel syndrome (IBS)
Investigations are a must in the case of IBS to actually determine the set of causes. The commoninvestigation includes- Blood Tests, and Stool Analysis to check for infect ons and Inflammatory Bowel Diseases.
GERD (Gastroesophageal Reflux Disease)
For diagnosis of GERD, the physician may take a history of signs and symptoms and a physical examination. To confirm a diagnosis of GERD diagnosis or to check for other complications, the physician may use esophageal pH monitoring, endoscopy, and manometry.
Treatment
Treatment of Chronic constipation
In Ayurvedic Treatment of Constipation, it is recommended to eat a fiber-rich diet and take anadequate amount of fluid to improve the Vata imbalance. Therefore at Aimil Healthcare and Research Centre, our experts recommended various effective laxatives, carminatives & paachan herbs after analyzing patients' conditions, which not just ease bowel movement but also work on the root of chronic constipation.
Treatment of Chronic diarrhea
As Ayurveda states, diarrhea takes place when the digestive fire is weakened, and generally occurs by the imbalance of Pitta Dosha. The food absorption and assimilation slow down, and the GIT motility is accelerated, causing liquid stools. The treatment at Aimil Healthcare and
Research Centre is to regulate the imbalanced Pitta Dosa and to ignite Agni (Digestive Fire) gently. Treatment would vary after testing or diagnosis. Generally, diarrhea should be treated with oral rehydration solution (ORS), a solution of clean water, sugar, and salt. Several deepan-paachan herbal formulations are prescribed according to patients' symptoms.
Treatment of IBS
As IBS is a complex GIT disorder that occurs due to Vata and Pitta imbalance and there is no standard therapy that works for everyone, typical treatment at Aimil Healthcare and Research Centre include dietary and lifestyle changes. Combinations of herbs are prescribed by the
physician based on the patient's symptoms.
Treatment of GERD (Gastroesophageal Reflux Disease)
GERD can be referred to as 'Amlapitta' as described in Ayurveda. This condition occurs when Pitta Dosha gets imbalanced. According to Ayurveda, The elementary line of treatment for Amlapitta consists mainly of Shodhanakarma (purification). Therefore along with some classically effective herbs, some basic lifestyle modifications could be practical to relieve GERD.
Physical Activities
Chronic Constipation
● Practice regular exercise.
● Drink a glass of warm water early in the morning (This helps in the gastro-colic reflex and results in bowel evacuation) and make a habit of regular bowel habits.
● Self-medication should be avoided.
● Daily walk for about 30 minutes.
● Don't subdue the urge to defecate.
Chronic Diarrhea
Exercise is not appropriate in case of diarrhea. Exercise can make the condition of diarrhea worse. Watery stools and fluid loss can be treated with Rehydration Salt solutions, and while recovering from diarrhea, a person should eat simple foods that are easy to digest and absorb excess from stools.
Irritable bowel syndrome (IBS)
● Exercise regularly
● Smoking should be avoided
● Intake smaller meals.
● Common triggers are red peppers, green onions, red wine, wheat, and cow's milk.
● Record the foods you eat to figure out which foods trigger IBS symptoms. GERD (Gastroesophageal Reflux Disease)
● Should decrease the fiber intake.
● Should avoid large meals.
● Elevate the head of the bed 10-20 cm.
● Avoid smoking.
● Lose weight if BMI is above the mark.
● Avoid acidic & tamsik food like citrus fruit, alcohol, onions, and garlic.
● Avoid laying down 3-4 hours after the meal.
Dietary Advice
Chronic Constipation
● Eating of light and easily digestible, and high fiber diet.
● Eating wheat, green gram, old rice, garlic, and seasonal fruits
● Make a habit of drinking plenty of fluids and water (minimum 2-3 lt. per day)
● Avoid unbalanced food habits, excess oily, heavy, and spicy food items, bakery andpreserved items
Chronic Diarrhea
Foods we should eat and favorable for recovering from diarrhea are-
● Fruits & food like bananas, plain white rice, boiled potatoes, oatmeal, cream of wheat, and rice porridge.
● Fluid Intake like Soup or broth, coconut water, electrolyte water, and hydrating drinks.
Some foods should be avoided in diarrheal conditions like- Spicy foods, Fried foods, Sugaryfoods, artificial sweeteners, and high fiber food.
Irritable bowel syndrome (IBS)
Diet is an essential component of treating IBS condition, as 70% of patients of IBS worsens their symptoms by having the wrong diet.
● Caffeine should be avoided.
● Intake of plenty of water (8 glasses per day)
● Increase fiber intake.
● Limited intake of cheese, and milk.
● Vegetables like green beans, carrots, pumpkin
GERD (Gastroesophageal Reflux Disease)
Some dietary advice that may provide relieve the conditions of GERD
● Vegetables like Asparagus, Broccoli, Brussel Sprouts, Cauliflower, and Cucumber.
● Intake of noncitrus fruits like Apples, Avocados, Bananas, Berries, Peaches, and Pears.
● Should include protein from sources low in saturated fat like- Almonds, Beans, Fish, and Lentils.
● Egg yolk should be avoided, due to rich in fat.
● Fat should be avoided
Subscribe to Newsletter
Get healthy news and solutions to your problems from our experts!